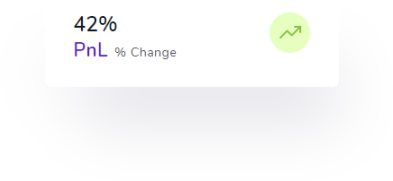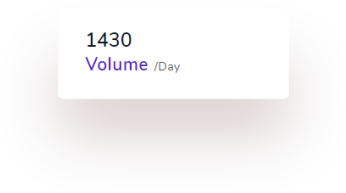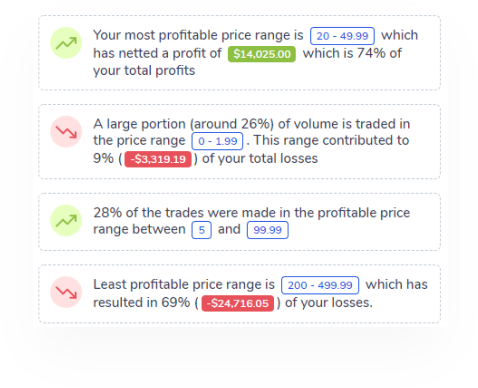 ALL THE RIGHT STATS
Insights that matter
A dashboard that shows PnL, win-rate changes and related charts and a dedicated insights list for every single PnL and win-rate chart. Fully automatically generated for every configuration possible.
Emphasis on actionable stats
70+ statistics that covers every performance metric related to PnL, Volume and no. of trades for your entire trading account
Check how much your performance has varied and what are the best ranges to trade in using the auto insights list
Auto-insights are generated for price, volume ranges, time and win-rate of trades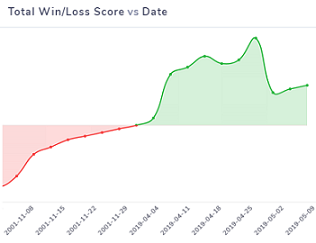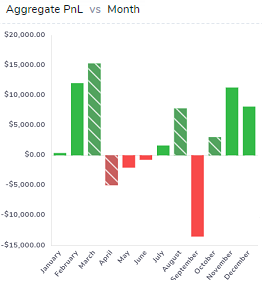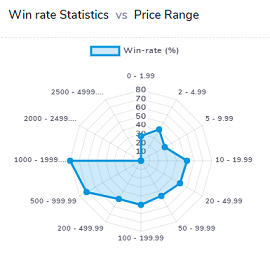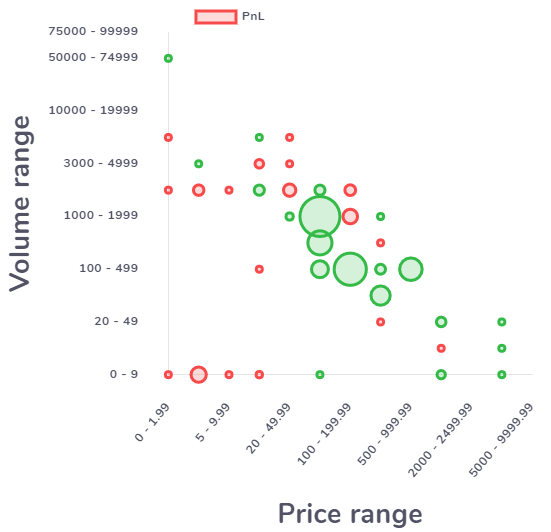 NOT JUST BARS
Multiple Visualizations
View and interact with different types of charts such as radar charts, treemaps and bubble charts.
Emphasis on perspective
With 70+ different base charts that combine your trading data with the market data, get a holistic view of your trading behavior
Almost every chart's can be customized to control the granularity of charting data. View up to 20 auto-generated ranges for every statistic which includes indicators, price and volume ranges, trade durations etc.,
Charts are organized into several groups such as date-related, trade-statistic related, performance-related etc., for easy accessibility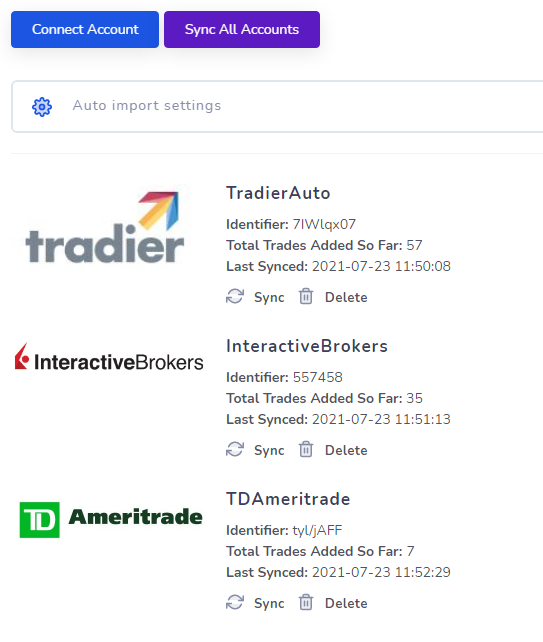 AUTOMATE EVERYTHING
100% automated trading account syncing
Just focus on the statistics and metrics - you no longer need to mess with manual CSV/XLS files and import them every day. For select brokers such as Tradier, TD-Ameritrade and Interactive Brokers, we already have fully automated account syncing features. Auto-sync support for more brokers are coming soon.
Remove the most cumbersome step in trade journaling
Select and modify how your trades should be grouped
Add extra commissions/fees to your trades if necessary - all automated!
Just connect your account and all trades from your brokerage will be auto-fetched every 24-hours!
All markets supported!
We support importing and adding trades in all major currencies and currently have full data support for Canada

, India

and US

markets!
Want us to add more market support? Contact us!
Explore More Features
Detailed guides for all features designed to make journaling and analysis effortless. Our dedicated support team is always available to accommodate your feature requests, questions and feedbacks.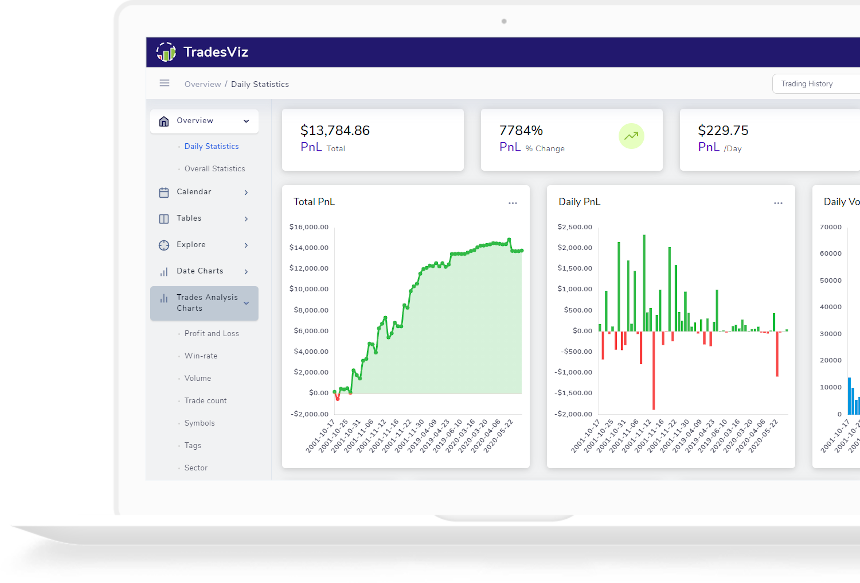 What you get

with TradesViz

Constantly updated features and visualizations providing actionable insights about every aspect of your trades
Fully interactive data charts
Trades import and export management
Advanced sharing capabilities
Intraday barcharts
Static/Interactive barcharts
Multiple Table views
Group edit functionalities
Upload and edit images online
100% Auto import/Auto-sync features
Sharing of trades and trading days
Automatic data chart insights
Stock Fundamental data anlaysis
Options greeks anlaysis
Custom global trade filters
Text searchable table columns
Data-point level filtering in charts
Overlay volume, PnL on charts
Custom trades grouping options
Private account sharing
Stop-losses for trades
Split and merge trades/executions
Market/indicator statistics charts
Calendar with market events
SEC 13F Filings data anlaysis
Intuitive visualizations leads to meaningful results
We strive to provide traders with more than just charts and tables. Using fully interactive charts and more data points than any other online trade logging platform, TradesViz is a complete solution under one roof that truly helps traders improve their craft.