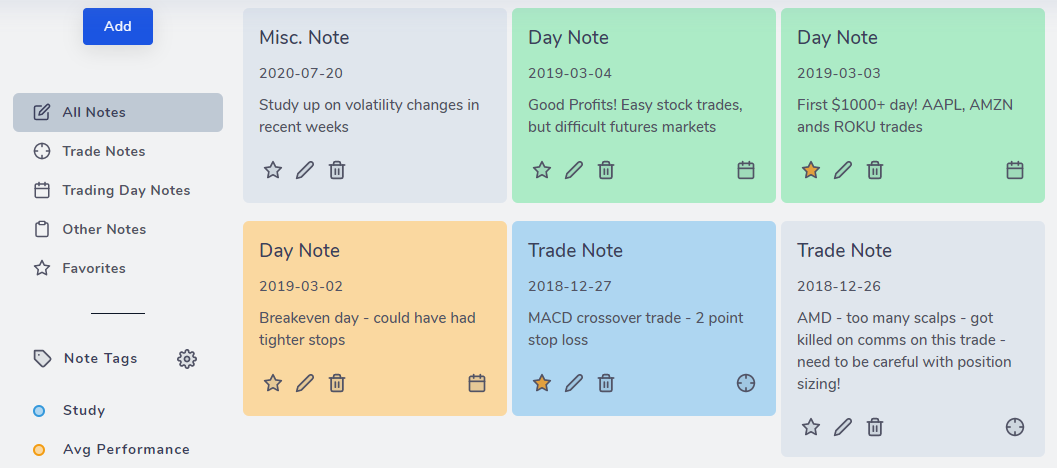 We have added another highly requested feature added to TradesViz! Many trades had difficulty organizing their notes and quickly notes not tried to any particular trade or trading day just to keep track of their ideas, thoughts etc., The notes view feature is the perfect solution to all those problems!
The notes view tab essentialy ties together all the notes from your trading days and individual trades and displays them in one neat page! Other than just displaying the trades, you can also do the following functions attache to each note:
Go directly to the trade or the day for which you created the note
Edit or delete the note
Add tags to notes!
The images below show 2 different types of notes - a trade note and a day note. Note that the icon on the bottom right corner is the only change!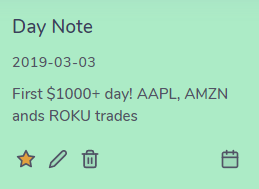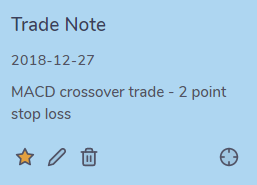 The icons functionality from left to right are:
Star/un-Star or add/remove a note from favorites list
Edit the note and it's respective tag
Delete the note
Redirect to day or trade explore view
Apart from this, there is also a misc. note that you can add which is not tied to any trade or trading day. You can use these notes to write about anything generic to your trading - like your performance in the last one month, a new trade idea that you want to explore in the future - there are many possibilities!
On the left side of this tab view, you can toggle between the types of the notes you want to display or also filter by the tags of the notes. With this, you have your entire notes of your TradesViz journaling in one place. You can also add as many tags as you want and assing different colors to each tag by clicking on the gear icon near the Note tag title. Note that, currently, only the date range filter (global) is applied to the notes view - but none of the global filters are applicable for all of the misc. notes which are independant of trades and trading days.
---
We hope this feature is useful to many traders and it helps you effectively edit, tag and search your notes! As always, please send us your opinions, feedbacks and any questions at [email protected]!