Adding deposits and withdrawls to your trading accounts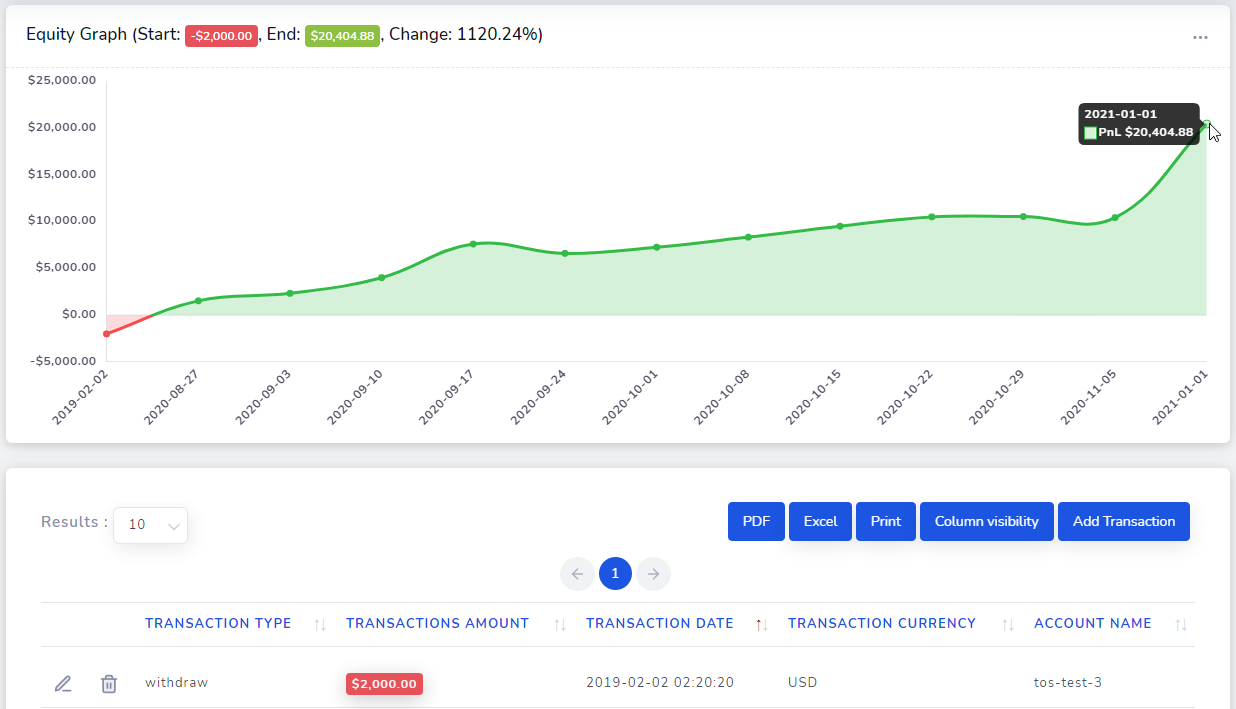 It's finally here! The long-awaited and recently most requested feature of being able to add initial deposits to your account is here and everyone can access this very essential feature.
One of the reasons why we had to put off this feature for so long is that we wanted to focus purely on trading statistics alone. But soon, we learned from feedback of our users that an essential question - 'at what value is my account at right now' was not yet answerable by TradesViz. But not anymore!
A new tab will now be visible under the Overview main tab in your dashboard.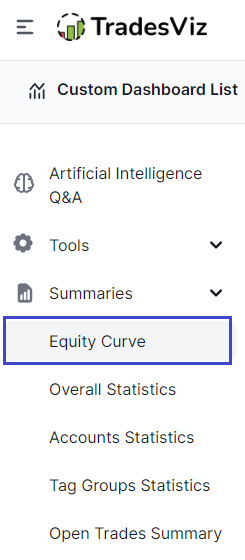 By clicking on the "Money transactions" you will be redirected to a tab with 2 new pieces of information in TradesViz:
Total account equity graph
Account deposits and withdrawals
Your total account(s) equity graph is inclusive of trading profits and all withdrawals + deposits accounted for. Note that this is the only chart in TradesViz where deposits and withdrawals are included. All other charts include ONLY PnL obtained from trading.

Finally, the second section is where you can add deposits and withdrawals to your account. There are 3 actions you can do here:
Add a transaction (deposit or withdrawal)
Remove a transaction
Edit a transaction

Adding and editing a transaction is easy - just click on the respective buttons and you will be presented with a modal with all the relevant fields and the account to which you want the transaction to reflect.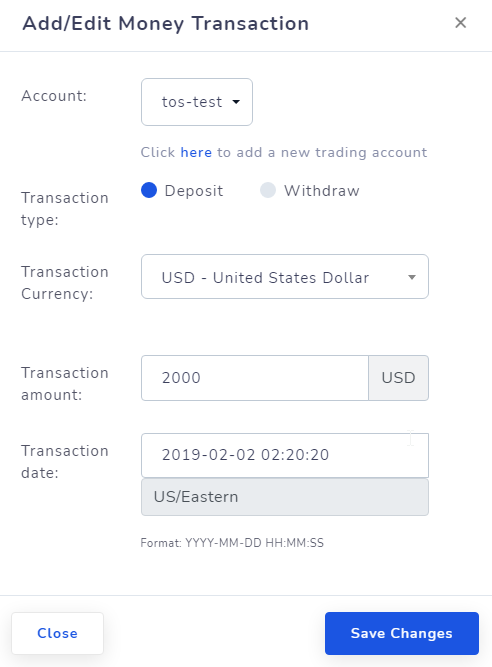 Fill in all the fields and click save changes to either save/add depending on what option you chose. Note that each transaction is applicable to only 1 trading account within TradesViz.
Since we now have these statistics, you will notice 4 new numbers in the overall statistics section:

The total account value will be of most interest to many traders as it's the sum of your trading profits/loss and all the money transactions (deposits/withdrawals). The remaining 3 fields are to do with money transactions
You can easily see from these examples that the numbers match up nicely. Here's an example calculation based on the above screenshots:
3 transactions done - 2 deposits, 1 withdrawal: 10,000 + 2,200 - 2000 = 10,200
Total profit from trading (inclusive of open trades): 10,104
Total account(s) value: 10,200 + 10,104 = 20,304 - this is the value seen in the first box in the second row and also in the last point of the total equity graph.
You can also see the total equity graph WITHOUT deposits/withdraws already in the day-grouped charts under "Date charts" section (Note however this only shows PnL of all closed trades only):

Jan 2023 update:
It is now possible to add transactions in bulk using a new bulk add button on the transactions page. If you have a lot of historical dividends, or expenses that you want to load into TradesViz, this is a great way to do it.

Click on the "Add transaction (Bulk)" button and you will be shown the following popup with an empty text area where you can enter your transactions,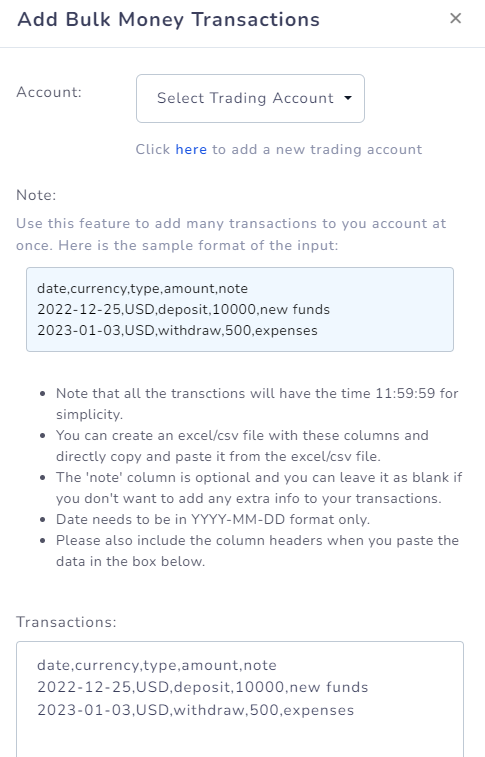 Please make sure to format your transactions as given in the example. Once you are done, click on the "Calculate account return" button so that TradesViz correctly calculates your returns based on the deposit for ALL your trades. This is because we also added account-based % return in addition to per-trade investment % for each trade!
---
We hope this feature is useful to traders of all levels - intraday, swing, long-term etc., If you have any questions, bug reports or additional feature requests, please don't hesitate to contact us at [email protected]