How to import trades automatically!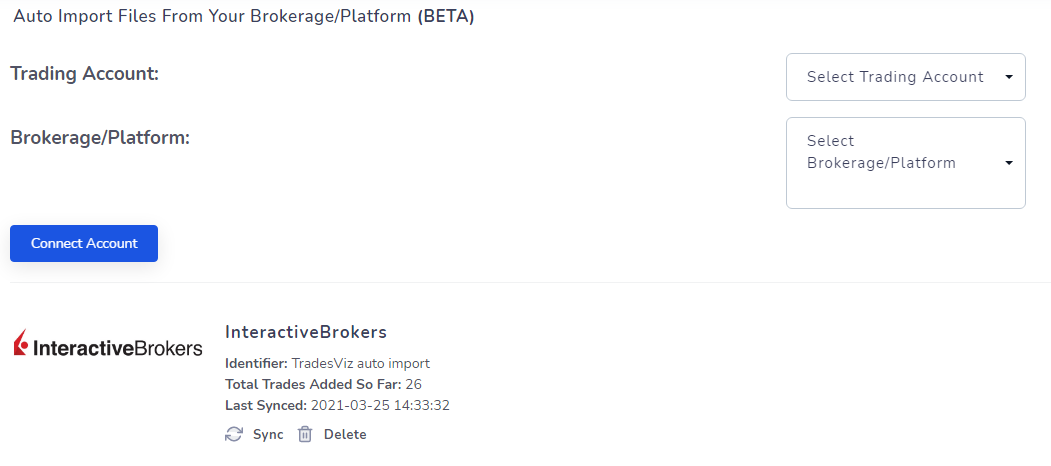 The biggest problem we have faced as product developers and as traders with TradesViz is: importing of trades.
Now we are very close to solving that problem with this new feature!
You can now automatically import your trades from selected brokers into your TradesViz account safely and accurately with just a click of a button. No need to follow instructions to download csv files, no need to fiddle with options, no need to drag and drop files - just 1 click and you will have all your imported to your TradesViz account. How to do this? let's explore!
When you now visit tradesviz.com/import page, you will see an additional option called "Auto import trades" on the left side. Click on it and you will have options to set up an auto account syncing/pairing with various brokers.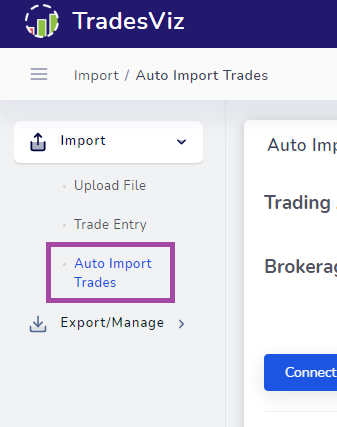 To link a broker/platform to your TradesViz account, follow the steps below:
Select the trading account into which you want the trades to be imported automatically
Select the broker/platform in the next drop (note: limited brokers only available for now - we will increase the list as we have more beta testers for various platforms)
Finally, click on the "Connect account" button
This will open a popup box with content that varies according to the broker you selected. Note that each broker has a unique way of pairing with your TradesViz account.

Once you connect pairing to your account, when you select a trading account in the first dropdown, you will see a list of paired brokers with options to sync and delete the pairing. Next time you execute trades and you want to see them in TradesViz, all you have to do is visit this page and click on "sync". That's it!
So far, we have auto-integration support for the following platforms:
Interactive Brokers (Sync/account connection instructions)
TD-Ameritrade (Sync/account connection instructions)
Tradier (Sync/account connection instructions)
Binance (Sync/account connection instructions)
Google Drive (Custom format) (Sync/account connection instructions)
NinjaTrader (Real-time auto-sync instructions)
APEX-cleared brokers (Coming soon)
TradeStation (Coming soon)
We are constantly trying to add more brokers/platforms to our auto-import list. If you would like to help us by being a beta tester for the platform/broker you use, please contact us at [email protected] - this will only accelerate the progress and together we can help many traders all over the world have an effortless journaling experience! We would very much appreciate your efforts and help if you can volunteer for being a beta tester for our new feature!
Note that regarding security features - we will explain what data is exposed to us and what we have access to in our following blog posts which have instructions on how to pair your account with every currently supported broker. The gist is that - we NEVER have edit/execution capabilities to your account. All brokerages/platforms are very stringent about this so all we have is very limited read-only data from your account.
If you have any concerns or questions about this feature, please don't hesitate to contact us at [email protected]!