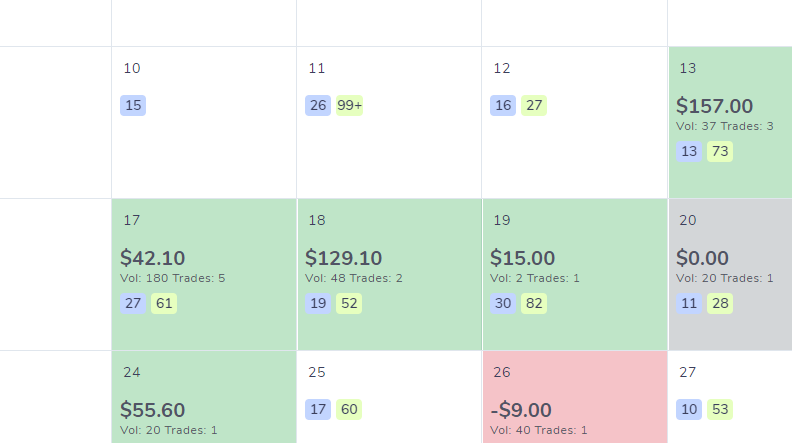 TradesViz's customized calendar allows you to view no. of economic and market events along with all the important trading stats for every trading day on a single page. There are 2 different calendar views currently available in TradesViz:
Year View
Month View
Year View

Viewing each month to just look at your overall trading performance can be time-consuming. The year-view was specifically added to TradesViz for this purpose. The aim is to give traders a simplified view of an entire year or even several years of trading in one screen. Hovering your mouse over each of the days will show the exact profit/loss on that day.
Moreover, clicking on any of the days in this view will take your directly to the day view where you will be able to view all trading info regarding that specific day (more info about day view can be found here).
Month View
The other view is the monthly view which combines both PnL data and market events count data. Note that similar to the year view, any date number inside a day-cell in the calendar can be clicked to switch to the day view.

At the moment, we support showing 6 types of data for each day in the month view itself.
Economic events count
Earnings count
IPOs count
Stock Splits count
Day tags
Day comments
PnL, Volume, and No. of trades

The economic and market events (data type 1 to 4) are combined with user's trading data (7) and user's own notes/tags for each day and combined into 1 single view. A vertical scrollbar for both notes and the tags area inside the calendar cell is added those contents do not block any other info. Note that any of these 6 data points (PnL info cannot be turned off) can be turned off for a cleaner calendar view. All executions are taken into consideration when calculating PnL for the calendar. Meaning, if you opened a trade on 18th May, adjusted position on 20th May, and closed trade on 22nd May, you would see PnL for both 20th and 22nd of May for that particular trade - i.e, realized PnL is automatically calculated.
---
If you feel there are features missing or have any questions, please don't hesitate to contact us at [email protected]