TradesViz: Options Trading Journal
Journaling options with TradesViz is a breeze! We support 20+ popular international options brokers, auto-spread detection and tagging, advanced auto-grouping for complex spreads, manual input for multi-spread trades, options greeks analysis (delta, theta, gamma etc.,), Unrealized PnL for trades and more!

With 100% Auto-sync of trades from TD-Ameritrade, Tradier and Interactive Brokers, you no longer need to manage your import files/trades manually. Simply setup a account link and let TradesViz take care of grouping, tagging your spreads, generating options greeks and 100+ trading performance statistics.
Start Free Trial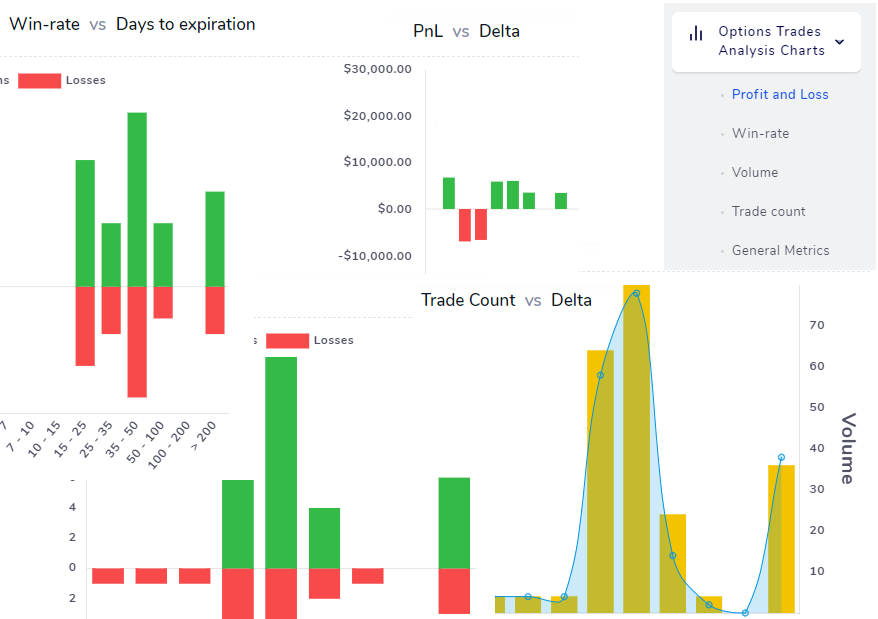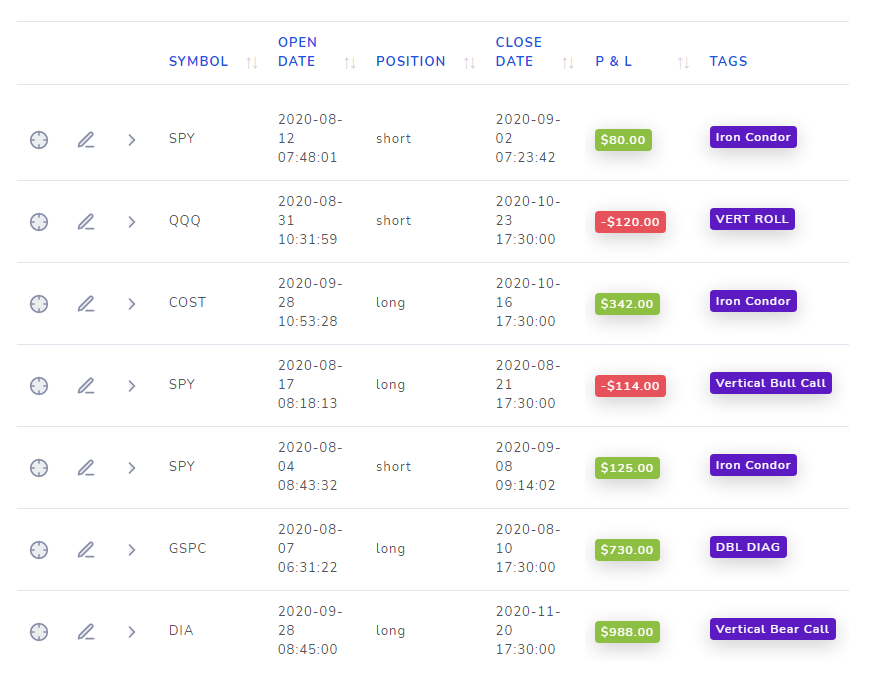 100% Auto
Just import/sync your file and leave the rest to us
Our goal is to have the easiest and simplest import process for any platform. We have advanced options grouping and labelling systems that work to automatically find your spreads, rolls etc., and grop them correctly. You don't have to worry about data accuracy - We just want you to focus on utilizing our analytics to improve your trading.
Auto-tagging 20+ options strategy
Add expiry executions easily, complex cash settlements, options exercise, assignment are all handeled and grouped automatically!
With EOD unrealized prices, it's easy to check how your portfolio looks everyday just using your journal!
Utilize your full potential
Use every piece of data to get an edge in the market
TradesViz has the most extensive options analytics features among any online trade journaling system. Risk reward ratios vs greeks, PnL vs Greeks, easy trades grouping and more - all to make your journaling experience effortless!
With dedicated charts for option greeks, you can now know exactly what trades you are good at. For every option executions, you can see the exact greeks in the trade explore view.
Analyze your best strategies using our tags charts - zoom into each data point and focus on the patterns on your best trades to fine tune your strategy!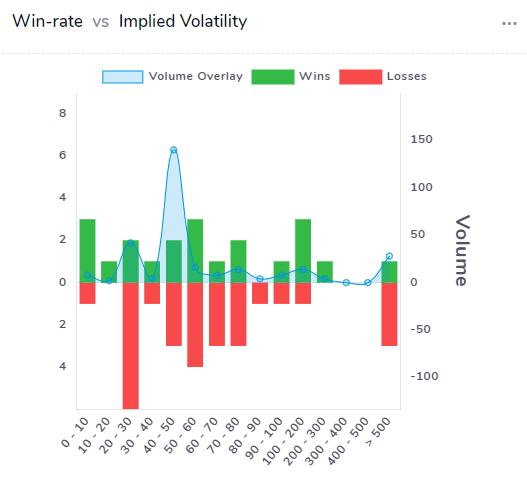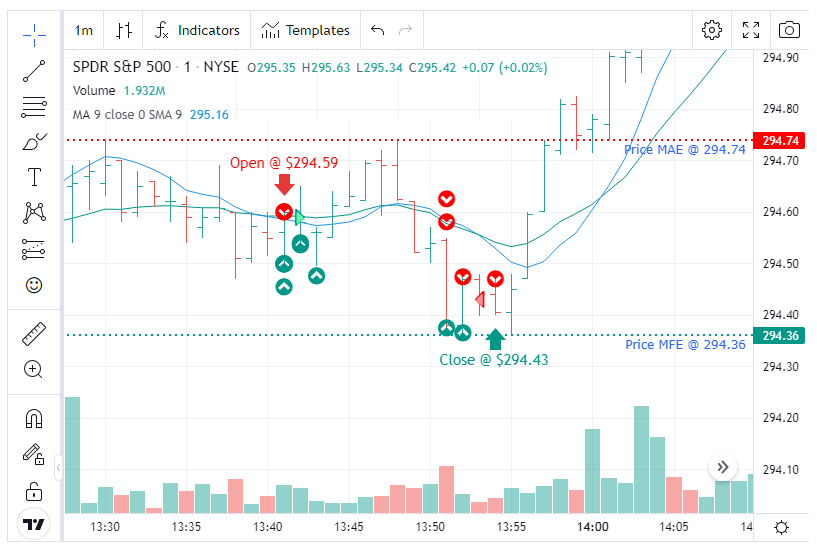 Annotated Charts
Visualize every execution of your trade
Journaling is not complete without charts. TradesViz provides high quality TradingView charts with annotated executions for ALL your trades. This includes MFE, MAE, Best exit and more for all trades!
100% Auto-plotted static image based charts or interactive TradingView charts - all fully customizable. Choose what chart type you want, timeframe, indicators and more!
Choose from 50+ indicators and save your chart settings/templates and set your account to auto-generate charts whenever you import your trades.
Draw on charts to add chart commentary to your trades and TradesViz will take care of saving all your notes/comments on charts!
Seamless Integration
100% Auto-sync your trades - don't worry about expiration, rolling, splitting, merging. Everything is auto in TradesViz.
TradesViz has the most auto-integrations with brokers. You can check our full list here.
Automatically sync all your options trades from ThinkorSwim, Robinhood, Interactive Brokers, Tradier, TradeStation and more!
Focus on the analysis and not on data-input. We will take care of the mundane tasks so that you can focus on that is important for you!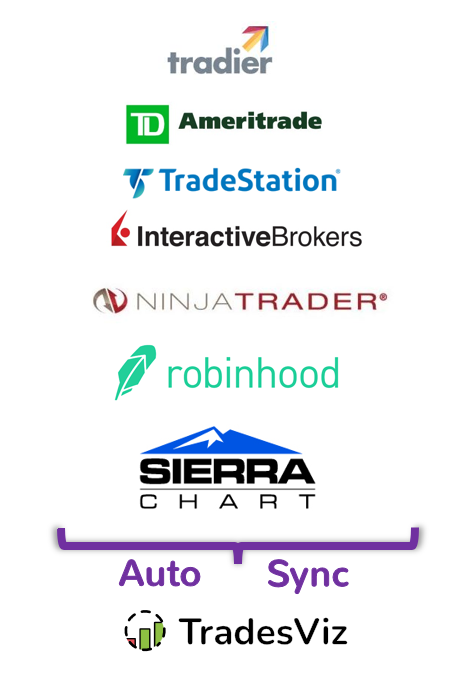 Small on price, Big on features!
With a single subscription, you can trade stocks, stock options, have in-depth trading performance analysis and charts auto-generated for you and more!
Black Friday Discount!
30% Discount from Nov 17th, 2023 - Nov 30th, 2023
Use Code: TVBF23
Get a savings of 50% and free 1-Year subscription to EZstockscreener.com when choosing Yearly subscription!
(Shown below are original non-discounted prices)
3000 Executions/ Month
Basic performance charts
Stock imports
1 Trading account/Portfolio
Select Plan
Unlimited Imports
All statistics and performance charts
Stock, options, futures, forex import
15 Trading accounts/Portfolios
Auto stock chart generation features
100% Auto-sync trades
Start Free Trial
Platinum
US$
29
99
monthly
Everything in Pro
Advanced Exit analysis
Options flow analysis/Options screener
Custom dashboards
Seasonality Analysis
Commission free stock trading
Integrated trading UI within TradesViz
Start Free Trial
3000 Executions/ Month
Basic performance charts
Stock imports
1 Trading account/Portfolio
Select Plan
Unlimited Imports
All statistics and performance charts
Stock, options, futures, forex, crypto, CFD import
15 Trading accounts/Portfolios
Auto stock chart generation features
100% Auto-sync trades
Start Free Trial
Platinum
US$
22
49
monthly
Everything in Pro
Advanced Exit analysis
Options flow analysis/Options screener
Custom dashboards
Seasonality Analysis
Commission free stock trading
Integrated trading UI within TradesViz
Start Free Trial