Feb 2023 to Aug 2023 Updates: AI analytics, Pivot grids, Trading plans, Options chain simulators and more! - Biggest TradesViz updates!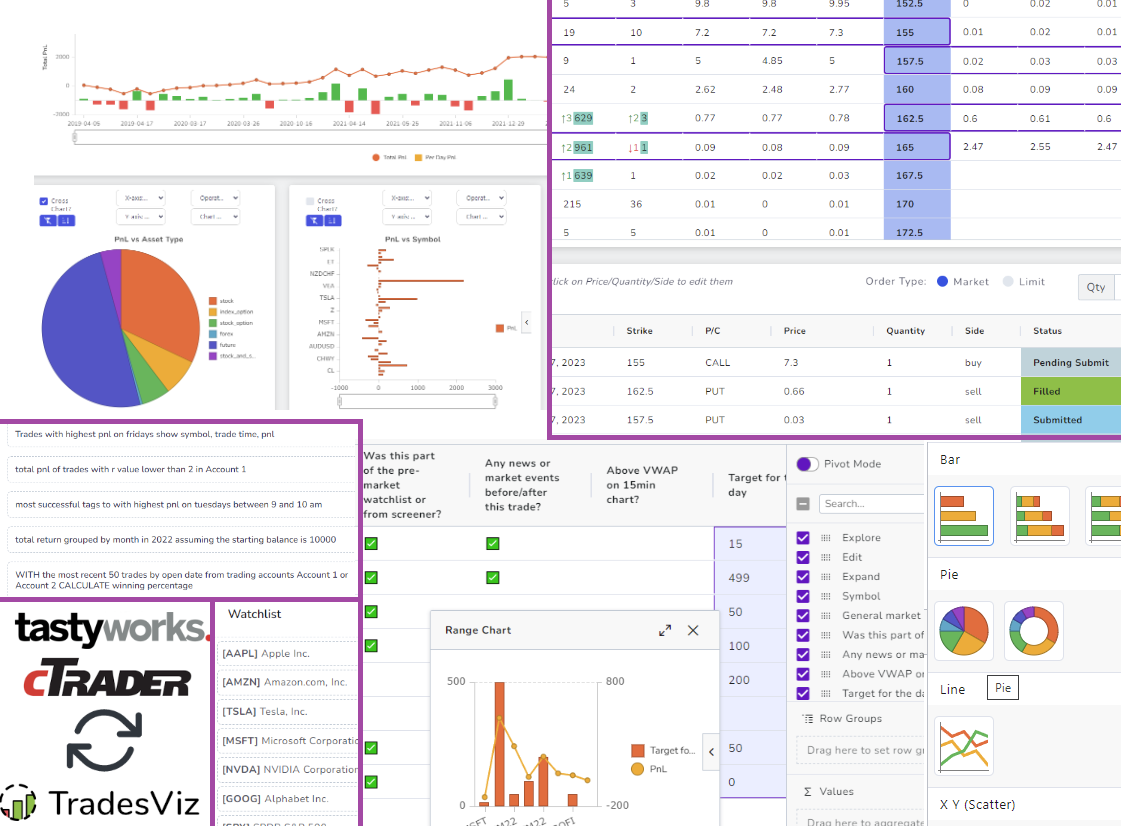 It has been an exciting first half of the year for us at TradesViz as we explored a lot of different domains - not only in trade journaling but also in simulations and analysis.
We set multiple first-in-the-field records and saw TradesViz quickly become the most preferred journal for new traders and a high adoption rate amongst professional and experienced traders who were so far stuck with using outdated journaling platforms.
Here are the MAJOR new features that have changed the trade journaling landscape:
Here are some of our minor feature updates:
Custom Dashboard Widgets: Calendar & Statistics List: The custom dashboard is one of the features that defined TradesViz as the most flexible trading journal online bar none. We have extended this to include calendars and even list of statistics thus allowing any trader to add any piece of widget/info to the custom dashboard.



Auto import trades from TastyWorks: 100% auto-import from Tastyworks broker (imports all asset types!)
Daily watchlists: Create watchlists for stocks from your day explore view.



Trading Trend Analysis: You must have used moving averages in your trading on chart (OHLC) data. But why do we use them? it is to understand the trend of the price averaged over a period of time. Moving averages will always be the most popular and easy-to-understand trend-based indicator.

What if we applied the same to your trading performance?

- What is the trend of your R-value over the last 100 trades?
- Has your average commission/fee payment increased in the last 2 months?
The trend anlaysis tab answers these questions.

Auto import trades from cTrader: 100% auto-import from the cTrader platform (with this, we now have 34 international brokers/platforms auto-syncing with TradesViz - the largest list of connected platforms in the world for any trading journal)
Running PnL Analytics: Have you ever heard of the phrase "cut your losers" and "let your winners run"?...
It's nice to hear that, but impossible to implement in a realistic way when you are trading.

However, you can analyze your historical trades to see if this was the case and let that guide you more realistically so that you can take these insights and apply them when you are trading.

This is why we have created the running pnl anlaysis charts.

AI-Powered Widgets in Custom Dashboard: Taking customizability to the next level.
Ask any AI question > Get results > Add it to your custom dashboard.
Can you imagine the no. of possibilities here? It's infinite.

None of these ideas would have been possible without the 1000s of interactions we've had with traders since the inception of TradesViz. We will always be grateful for every user's support and feedback!
Our goal from the beginning has been very simple: Provide the best, zero-compromise, No-BS, affordable trading journal analytics platform to traders from all over the world.
We have focused a lot on improving the versatility of TradesViz in the last ~6 months. From just being an advanced trading journal to a tool capable of providing the most insightful visualizations, simulating all asset types, and using cutting-edge AI to make trading analytics simpler and easily accessible.
Our next goal is to improve the usability (UI and UX) part of TradesViz and to tweak and update a lot of existing features. While creating new features is hard, improving and modifying them to be more useful and easy to use is even harder in our opinion. We will always strive to improve and be transparent about our updates to our users.
Traders in 2023 and years moving forward should be careful in choosing their choice of trading tools. Far too many tools exist these days which makes decisions harder for new traders. Here are two important attributes we would see in any successful product: consistent improvement and innovation. Both of these feature guarantee that you are getting the most value for your money and that the developers of the product actually care about the users.
There are also too many resources being spent on creating false hype and marketing around trading-related products to lure new traders into expensive subscriptions that provide no value - this seems to be like a playbook for a lot of newer companies from what we have seen ourselves and from the feedback of our users who come from other platforms/competitors. Further proving this point, since our launch, we've yet to see a single competitor provide even 10% of the value TradesViz provides its users. But at least we're glad that some of our features are being used as inspirations in some new features of already existing journaling products.
Trading performance-wise, it has not been an easy year with rising rates and uncertainty about the US economy affecting the markets making it very harsh for new traders. While things have gotten better, the current conditions require a lot more effort than usual from new entrants to the market to be consistent. Our suggestion? Practice & learn + Reduce size. With the addition of TradesViz's simulators and along with our existing options flow, seasonality, and fundamental traders, explore different types of trading methodologies. Become a trader for all seasons. Be adaptable and flexible. Don't rely on just one strategy. Increase the breadth of your toolkit if you want to stay successful in the market for a long time.
We hope to bring you even more useful features to make your trading easier in the coming months. We sincerely wish for your continued support and hope to be your preferred trading journal.
---
That's it for now! TradesViz's development process is very user-centric so all our inputs and feedback are taken into consideration when implementing every feature! Please let us know if you have any questions, feedback, or feature requests by emailing us at [email protected]!