Dec 2021 to Feb 2022 Updates: Options flow, Custom dashboard, Exit analysis & more!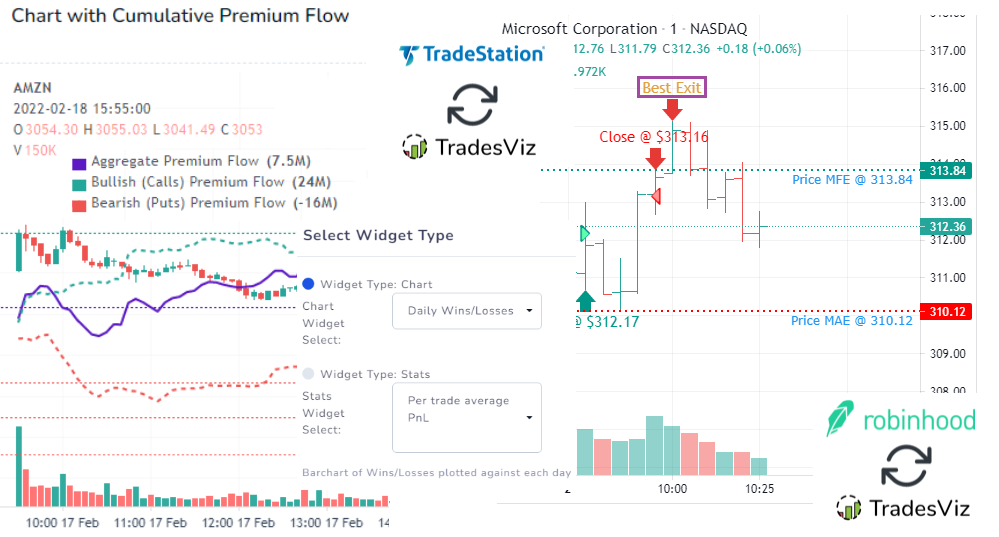 We hope everyone is off to a great start this year! We have certainly had a lot of new releases for TradesViz users and have a lot more analysis + automation features coming soon!
Here are some of the recent changes and improvements we have done to our platform:
Exit analysis charts + columns for trades table
TradingView Technical analysis charts with executions and multiple stats plotted
Pre-/Post-Market data now available for 1m timeframe for all US stocks
PnL drawdown chart now available in Date charts > Day grouped charts
Lots of minor QoL features, bug fixes, under-the-hood optimizations have also been done.
An interesting feature for traders with multiple accounts: You can now select ONLY a specific account in the accounts dropdown at the top of your dashboard by holding down the Ctrl key + clicking on the account you want to select.
Improvements with respect to broker/platform modules have also been done along with adding support for newer formats for existing brokers.
In the coming months, you can expect more auto-sync brokers/platforms added to the platform. Long with that, we will also be deeply integrating options flow data into journaling to give you extremely useful and actionable insights on how you traded or how you could have traded considering the flow of the market on that day.
---
That's it for now! TradesViz's development process is very user-centric so all our inputs and feedback are taken into consideration when implementing very features! Please let us know if you have any questions, feedback, or feature requests by emailing us at [email protected]!