Oct, Nov 2021 Updates: MFE/MAE charts, Technical analysis charts, QoL improvements, Unreazlied-PnL stats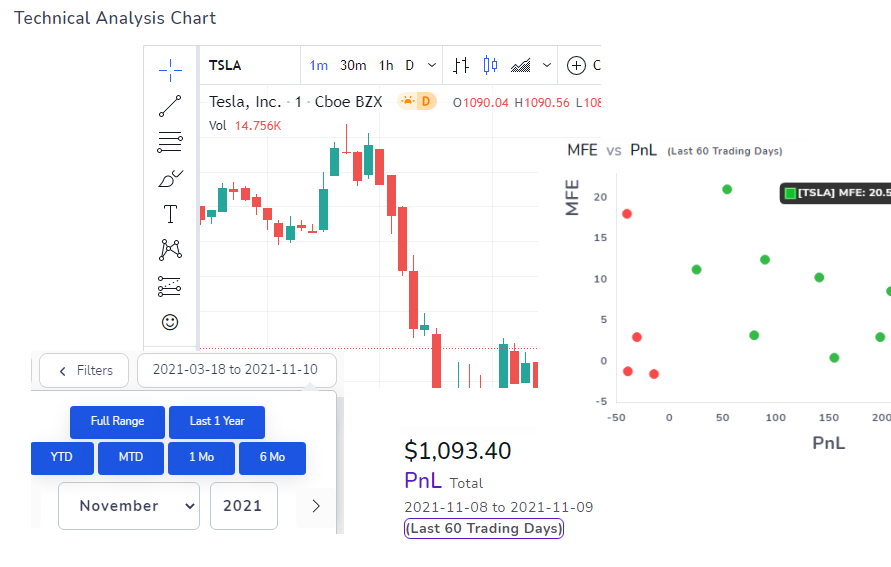 Over the last few months, we have done a lot of under the hood optimizations to make the dashboard feel faster and smoother to keep up with our growing userbase. We have many new features planned for Q1 2022 and our goal going forward would be to focus on improving existing charts, visualizations, ease of importing trades, and also adding some real-time analysis.
Here is a summary of important changes and improvements we have done over the last 2 months:
We have made sure it's easier to view the full calendar range by adding an additional button in the calendar widget
All the charts and statistics in the dashboard now come with the label indicating the trading history. You can now click on this text and change the trading history. This is in addition to the trading history dropdown that is available at the top of your dashboard.
There is no longer a limitation on the historical period for daily statistics charts - you can view your entire trading history by choosing "All days"
We have re-arranged some of the tabs on the left side of your dashboard to make navigation of the most commonly used tabs easier
For every trade explore view, you will now be able to view full technical analysis charts at the bottom of the page.
MFE/MAE charts were added as part of performance metrics charts. More info can be found here.
For all trades, MFE/MAE statics are auto-generated/refreshed automatically at the end of the day if data is not available.
For all trades, Unrealized-PnL, Last EOD price, last underlying price, total value are generated at the end of the day. These columns are also available in the trades table (apart from trade explore) and are fully filterable and sortable (previously this was not possible).
Added horizontal scrolling for tables so that traders can view ALL the columns of the table.
Fixed a few bugs with pagination, footer search and made table pagination faster than before.
Export all trades functionality now includes more data such as last price, unrealized pnl, etc.,
More auto-import support: Binance and Google Drive. TradeStation auto-import support under development.
---
That's it for now! TradesViz's development process is very user-centric so all our inputs and feedback are taken into consideration when implementing very features! Please let us know if you have any questions, feedback, or feature requests by emailing us at [email protected]!