July, Aug, Sep 2021 Updates: New features, bug fixes, QoL improvements and additional import formats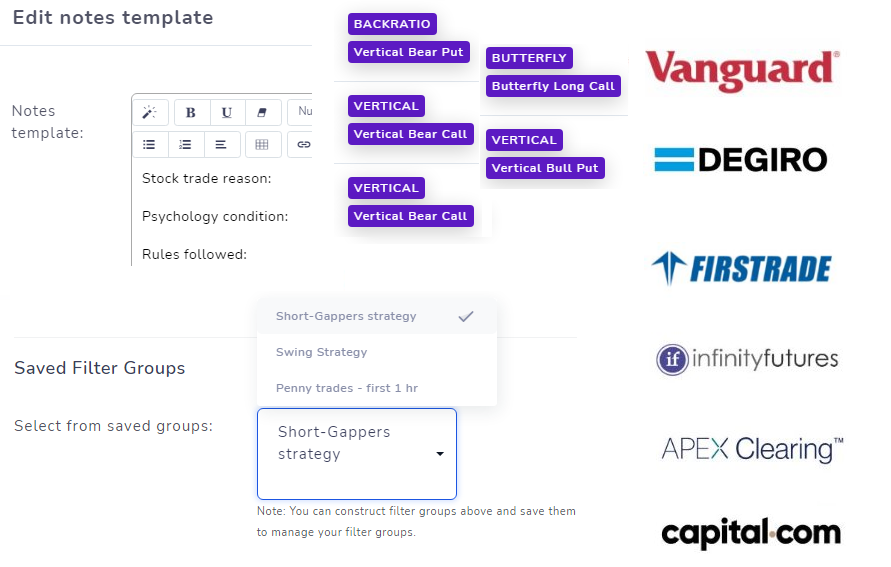 It's time for another feature and improvements round-up of the last 3 months! As usual, we have been implementing all your feature requests to make trade journaling as easy and intuitive as possible!
Here are some of the major features we have added to TradesViz:
Ability to add a template to your notes
You can now set a pre-defined template for your day and trade notes via the settings page (tradesviz.com/accounts/settings) based on your notes-taking style. This template will be applied whenever you create a new note for any trade or any day.



Here is an example template:



Option to auto-tag option trades based on spread
You no longer need to rely on your broker/platform to tag the option spreads! We have built our own option spread detection system that detects more than 20 different options spread strategies. All you need to do to enable this feature is to check the "Attempt to recognize spreads" option under the "Advanced settings" area on the import page.



Once you enable this, our system will automatically tag your options trades if it matches any of our pre-made common options strategy templates. Here's an example of how it would look like once your trades have been tagged:



Ability to save and apply your group compare filter groups

Finally, the very useful group compare feature gets a minor upgrade of being able to save your filter groups. Each filter group can be very complex depending on your strategy compassion needs as it can have more than 20 unique trade attributes. You can now save each of your filter groups (say, each representing a different strategy) and compare them against each other in a couple of clicks.

You will find the UI for selecting and managing existing filter groups at the bottom of the group compare page:


We have also added many new brokers such as :
Vanguard
Degiro
Firstrade
InfinityFutures
APEX clearing (support for all APEX cleared brokers)
Capital.com
Want us to support your broker/platform's format? Just send us an email with a sample file and we will add support for your platform within 48-hrs!
Finally, here are some minor QoL improvements we have done to make your experience as smooth as possible:
Speed up the tag-based search for accounts with lots of tags
Improve grouping of complex options strategies
Support cash settlements for index option imports with a clear indication of buy/sell executions
Added additional advanced option for handling combining of swing trading positions across different accounts

and lots of under the hood optimizations!
We are constantly working towards making TradesViz a better platform for all traders. Our goal is to accommodate the needs and requirements of all types of traders and be the go-to all-in-one trading performance analysis and journaling platform for every trader. Our trader-first approach has earned us the trust of thousands of users from all over the world. If you are a new user still looking for a journaling solution, you are in the right place! Sign up for free and try much of a positive difference an advanced journal can make in your trading journey!
As always, please don't hesitate to reach out to us via the chat widget at the bottom right of the screen or via email at [email protected]. You can also submit an email via the contact form here.