Build your own custom trade reports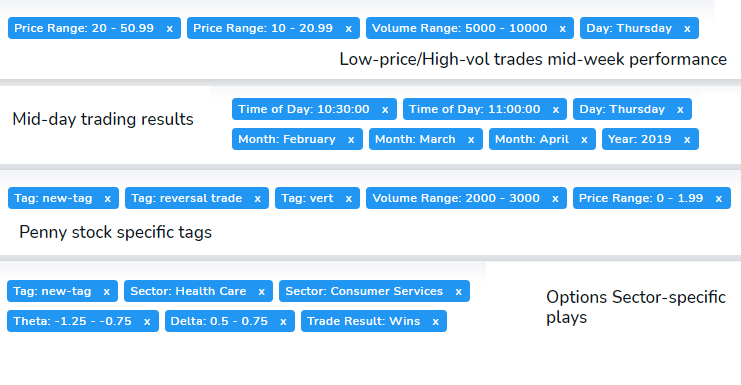 With this update, we are making it even easier to use filters and build your own trading performance reports for any of your strategies!
Using this feature is simple, start off by building a set of filters by clicking on any of the performance-related chart's data points and click on "Apply as filter".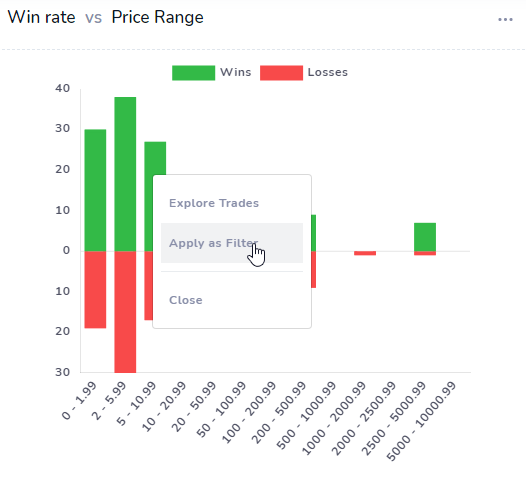 You can do this for pretty much ANY chart in TradesViz!
Once you click on "Apply as filter" you will see a section at the top of your dashboard with all the filters you have selected:

Once you are satisfied with the set of filters, you can click on the green check icon to see the results of your filters. What TradesViz does is, it applies all these filters on all of your trades and re-generates all the charts and statistics based only on the filtered trades. This way, you have don't need to wonder how well you did on a particular strategy - rather you can keep track of multiple strategies and see how they performed with the full might of visualizations that TradesViz offers.
Of course, doing this manually every time is time-consuming and that's exactly why we added a feature to save all your filters. Our regular users might notice the new save icon on the right side of the filters tags list as shown in the image above. Click on this icon and you will be prompted to either save it as a new filter or overwrite one of your old filter groups. We call each set of these filters as "filter groups". Each filter group can represent different strategies, different performance reports of a particular set of your trades over time, etc.,
Once you save it, you can access all your filters in the "Filters" dropdown on the top right of your dashboard.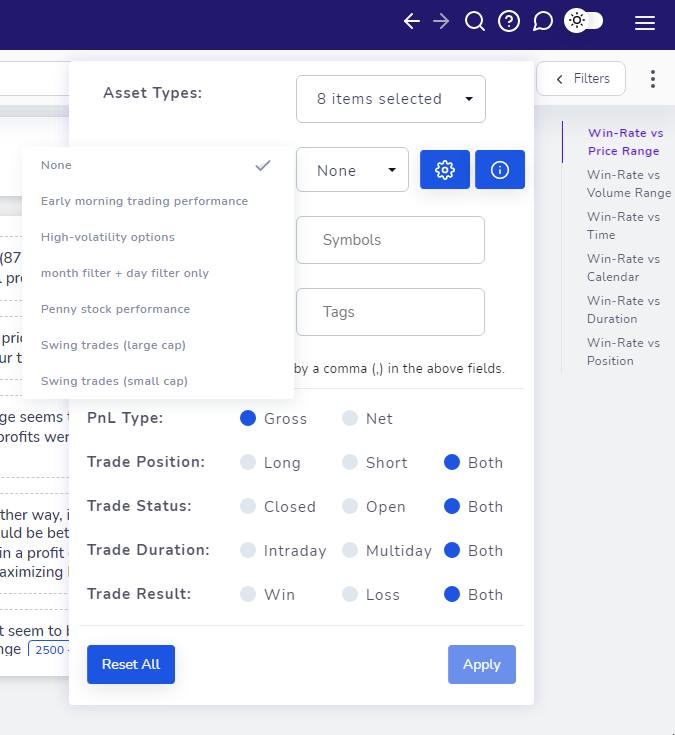 Select any one of your pre-saved filter groups and click on "Apply" at the bottom and you're done! TradesViz takes care of adding and applying filters for you! Flipping through strategies/performance reports is a breeze now with this feature!
Note that there are a nearly limitless amount of filter groups you can create with the building blocks such as:
Price/volume/trade count range
Options greeks ranges
Win/loss
long/short
trading duration periods
trading days/months/years
market stats such as ATR/ADX/MFI etc.,
Individual dates
We have looked at how to create/save filter groups, finally, to delete them, click on the gear icon next to the filter group dropdown in the filters popup:

In the popup that appears, select the filter you want to delete and click on the delete button. Clicking on the info info will redirect you to this page.
Note: All the filters in the filters tab (asset type, tags, symbols, etc.,) are also saved as part of the filter group.
---
Do you have any additional feedback? Want us to implement a particular feature? or if you have any concerns or questions about this feature? please don't hesitate to contact us at [email protected]!