FOR THE FIRST TIME EVER
100% Commission Free Stock + Option Trading +
FREE TradesViz Platinum Subscription
We have partnered with Tradier.com to bring you unlimited stocks and stock options commissions-free trading (Yes, even options!).

Not only commissions fee trading, but you can also get a 100% free TradesViz Platinum account with all the features if you trade on Tradier!

With 100% Auto-sync of trades from Tradier, you no longer need to manage your import files manually.

World-class customer support - no bots, no automated replies. Your calls/chats/emails are always attended by experts from Tradier and TradesViz
Open Your Free Tradier Account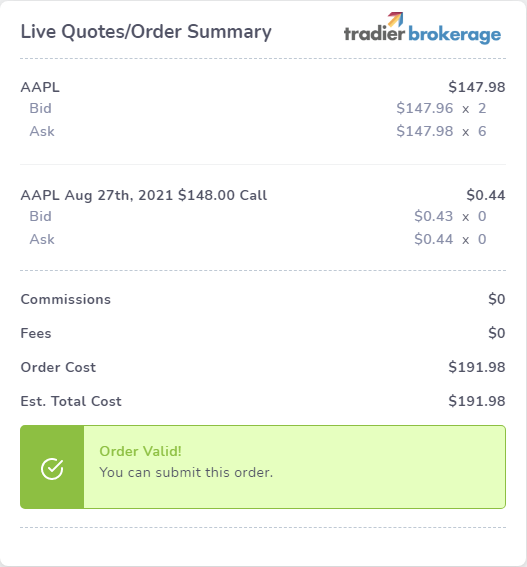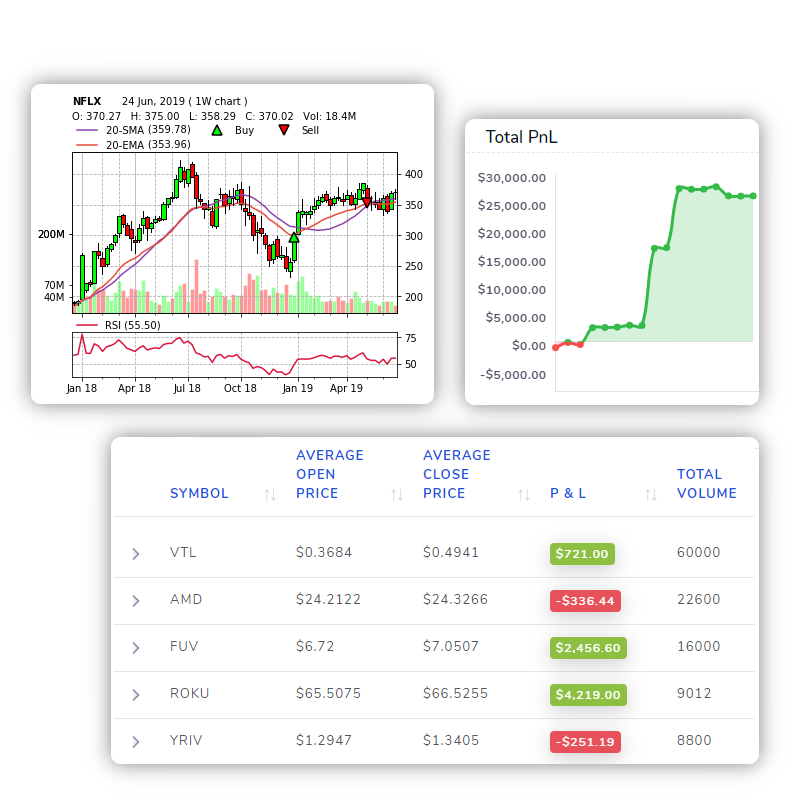 One stop shop
Trading + Performance analysis + Charting + Journaling
Let's make trading and trade journaling simpler! Get TradesViz Pro (Ultimate in-depth trading performance analysis) + Commission free trading via Tradier for a super low monthly price!
100+ metrics and charts to fine-tune your strategies
Setup charts to be generated with executions and custom indicators plotted for all imported trades automatically
Connect your Tradier account to auto-sync your trades and do away from manual imports!
Free TradesViz Platinum
No Commissions. No Subscription free.
Focus only on your trading and analysis.
$0 stock commissions, $0 options commission, $0 TradesViz platinum subscription.
Trade on Tradier → sync your trades to TradesViz → analyze + chart + take notes → Simulate your trades → Learn more → Become a better trader!
↓
Fund your account and wait 24 hrs
↓
You should now have a Platinum TradesViz Subscription + 100% commissions free trading account on Tradier
For more details and terms and conditions, please refer to the FAQ at the bottom of this page.
Brokerage Liberated
Trade on your own terms with Tradier Brokerage
One Account. Multiple platforms - Trade on TradesViz, on Tradier's own Dash web platform or on Tradier's mobile app. You have all the flexiblity you need to execute and manage your trades from anywhere.
With support for complex option strategies building and execution, you can now both execute your trades and analyze your options strategies using TradesViz's advanced drill-down charts.
World-class support from experts at Tradier to solve any issues you may have and ensure you have a smooth trading experience.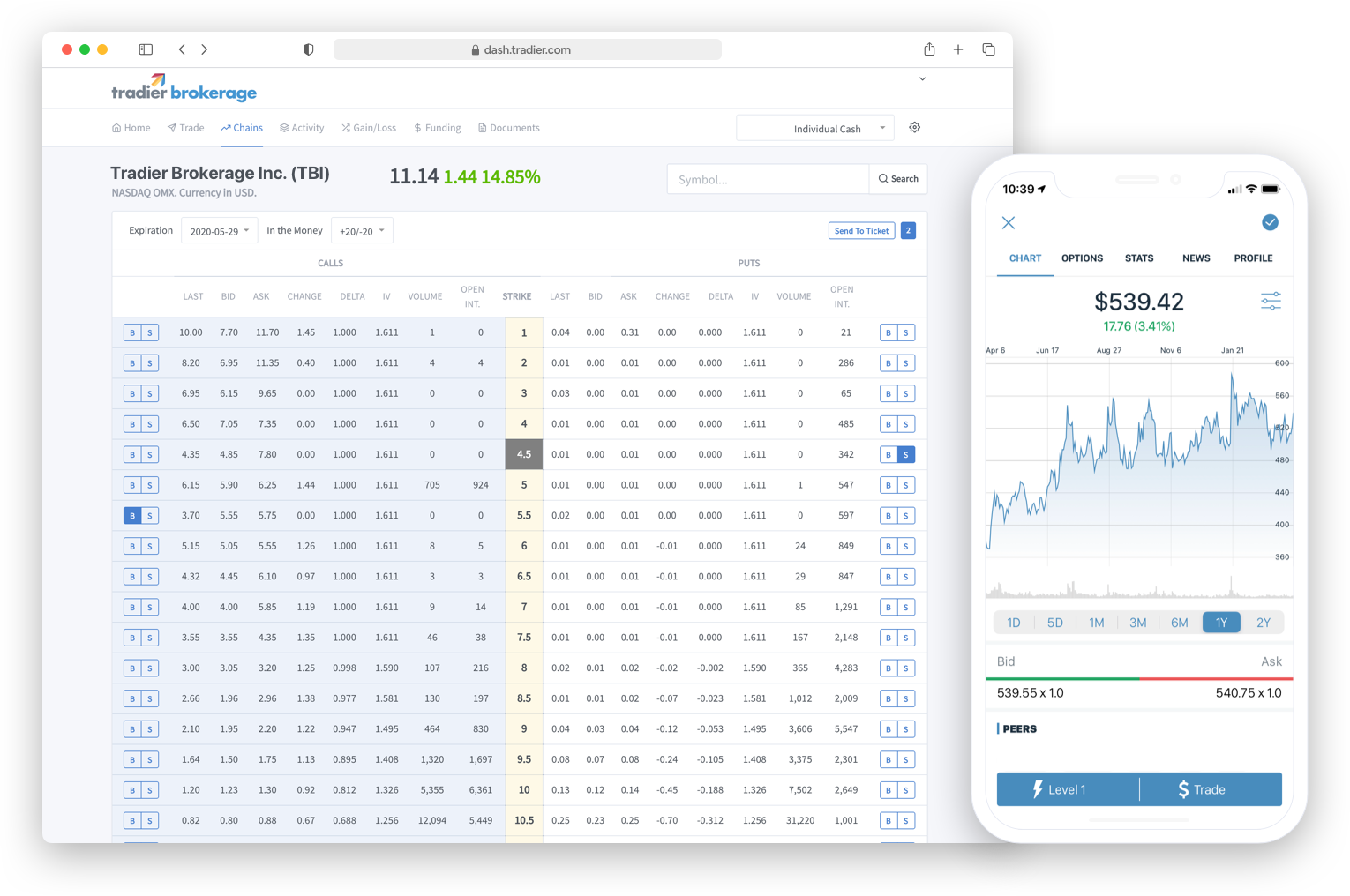 Small on price, Big on features!
With a single subscription, you can trade stocks, stock options, have in-depth trading performance analysis and charts auto-generated for you and more!
3rd Year Anniversary Offer!
30% Discount from June 5th, 2023 - Jun 26th, 2023
Use Code: TVYEAR3
Get a savings of 50% and free 1-Year subscription to EZstockscreener.com when choosing Yearly subscription!
(Shown below are original non-discounted prices)
3000 Executions/ Month
Basic performance charts
Stock imports
1 Trading account/Portfolio
Select Plan
Unlimited Imports
All statistics and performance charts
Stock, options, futures, forex import
15 Trading accounts/Portfolios
Auto stock chart generation features
Start Free Trial
Platinum
US$
29
99
0*
monthly
Everything in Pro
Commission free stock trading
Commission free stock options trading*
Integrated trading terminal within TradesViz
100% Auto-sync trades
Advanced Options flow analytics
Advanced Trading simulator (stock + futures)
Start Free Trial
3000 Executions/ Month
Basic performance charts
Stock imports
1 Trading account/Portfolio
Select Plan
Unlimited Imports
All statistics and performance charts
Stock, options, futures, forex import
15 Trading accounts/Portfolios
Auto stock chart generation features
Start Free Trial
Platinum
US$
22
49
0*
monthly
Everything in Pro
Commission free stock trading
Commission free stock options trading*
Integrated trading terminal within TradesViz
100% Auto-sync trades
Advanced Options flow analytics
Advanced Trading simulator (stock + futures)
Start Free Trial
* Read FAQ below to learn more on you can redeem this Tradier offer (commission free trading + free TradesViz Platinum)